---
---
Stand out with this incredible Airtec Front Mount Intercooler for all Honda Civic Type R FK8. (Years: 2017 - Present)
As part of our expanding Honda Civic FK8 Type R product range, AIRTEC Motorsport is proud to launch our intercooler upgrade suitable for track or fast road use.
In order to ensure there is no noticeable loss in performance during extended periods of hard driving, we have developed a larger, freer-flowing intercooler that is a direct replacement for the smaller and more restrictive OEM item.
Our solution to increasing the intercooler's size and performance within the confines of the limited space behind the bumper is based upon a core wide and short core with a huge 125mm depth. This offers a massive 140% increase in overall capacity in comparison to the original intercooler, as well as a significant increase in frontal area over standard, which allows it to make the most of the air flow provided.
The inlet side of the intercooler increases from 50mm diameter to 63mm, whilst the outlet increases from 55mm to 70mm to further improve flow. The original oval connectors with O-ring seals have also been re-designed to feature simpler and less restrictive silicone connectors.
Together with our high-flow, moulded one-piece cast end tanks and an internal air diverter to ensure flow is directed correctly and efficiently, the AIRTEC Motorsport intercooler offers much greater efficiency and volume over standard.
TESTED ON TRACK
Following an extensive development process our intercooler has been tried, tested and logged on the road and race track. Our comprehensive testing highlighted the intercooler's improved design to cater with long periods of hard use, as seen by the inlet temperature's consistently low results and improved recovery times in comparison to the OEM intercooler.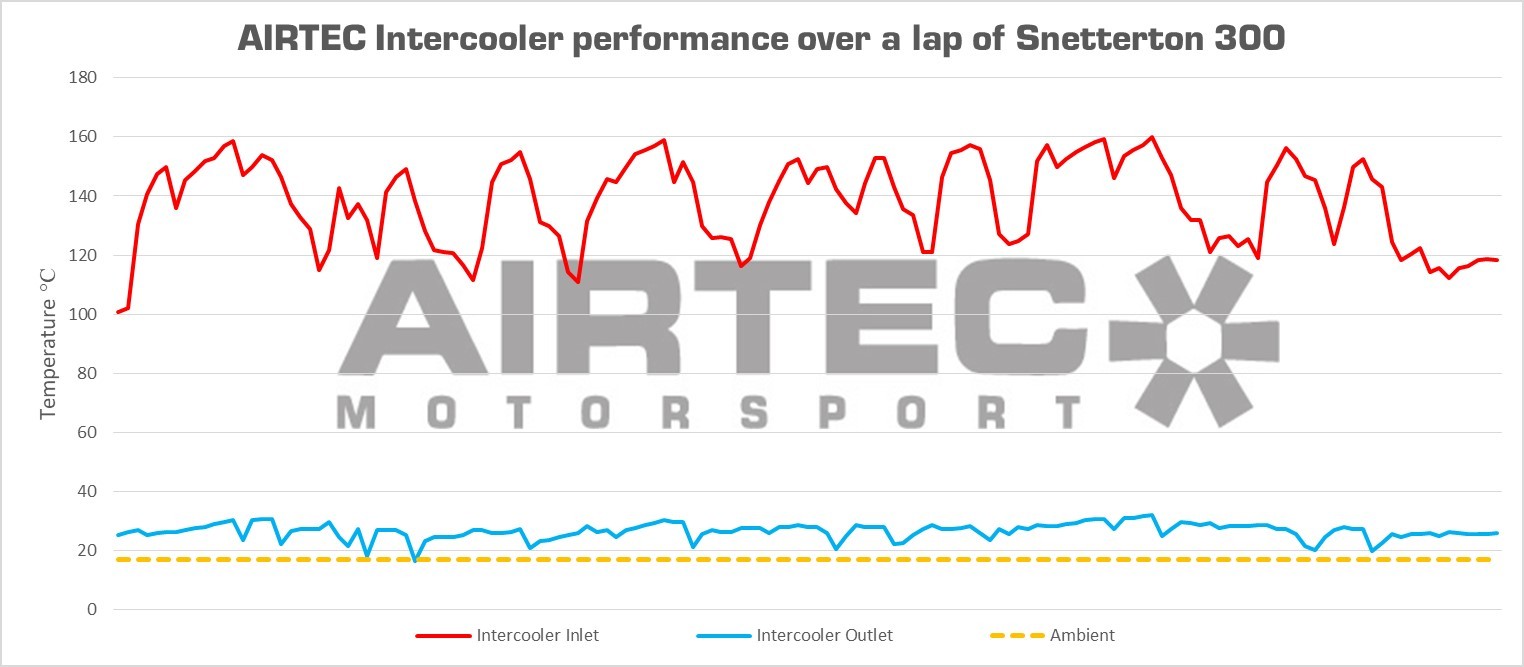 Despite this improvement, the kit fits neatly behind the original bumper and requires no trimming or cutting, and can be reverted back to standard with no issues. The comprehensive fitting kit includes all the correct fixtures and fittings, step-by-step instructions with pictures and Pro-Hoses silicone connectors.
The intercooler is available in a Pro-Series Black finish (with or without the AIRTEC logo) and gloss black Pro Hoses silicone connectors.
Dimensions:
OEM intercooler
Width: 680mm
Height: 143mm
Depth: 65mm
Capacity: 6.3 litres
Front area: 970cm²
Inlet: 50mm
Outlet: 55mm
AIRTEC Motorsport intercooler
Width: 670mm
Height: 180mm
Depth: 125mm
Capacity: 15.1 litres
Front area: 1,210cm²
Inlet: 63mm
Outlet: 70mm
---
Images of products are only for information purposes and can change due to continuous product development. Prices, images and product description are subject to change without notice. Not responsible for typographical errors.