---
---
Stand out with this incredible Airtec Intercooler Upgrade for all Hyundai I30N Pre-Facelift. (Years: 2017 - 2021)
This freer-flowing intercooler is a direct replacement for the smaller and more restrictive OEM set up.
It features a stepped twin-core (130mm and 40mm) design for maximum frontal area in the limited space provided behind the bumper. Together with high-flow, moulded one-piece cast end tanks, the AIRTEC intercooler offers much greater efficiency and volume over standard.
With a 70mm cold side, this makes the AIRTEC intercooler the largest on the market currently for the Hyundai I30N!
Despite this improvement, it fits neatly behind the original bumper, requires no trimming or cutting. The comprehensive fitting kit includes all the correct fixtures and fittings, step-by-step instructions with pictures, mew Pro-Hoses silicone hoses and should take around 2-3 hours to complete.
The intercooler is available in Pro-Series Black finish and either with or without the AIRTEC logo and Gloss Black Pro silicone hoses.
Approx. dimensions:
– 160mm deep bottom core and 70mm deep top core
– 195mm high
– 610mm wide
Intercooler test data: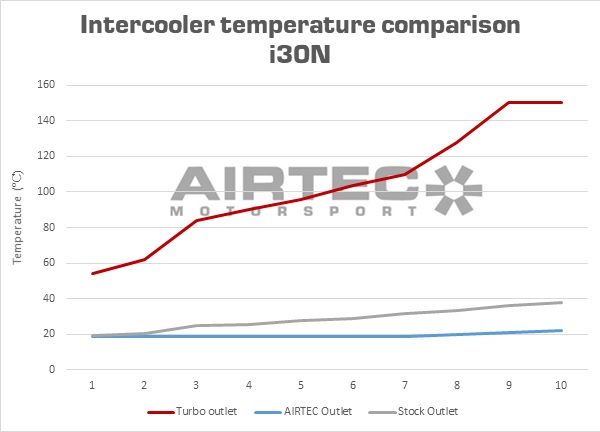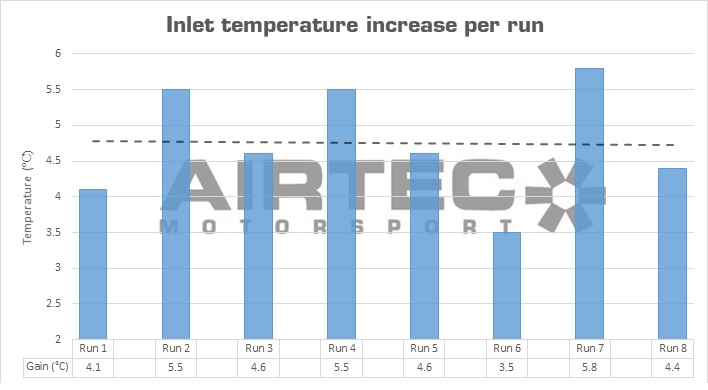 Features:
Stepped intercooler design for maximum flow
Designed and manufactured in the UK by AIRTEC
AIRTEC CAD designed cast end tanks for improved airflow and unbeatable strength
Reduced charge temps
3-year unlimited mileage warranty
Available in Pro-Series black finish
AIRTEC logo available at no extra charge
Unbeatable value for money!
Choose from plain black, or add your choice of coloured AIRTEC logo free of charge.
Please note: Only available in Pro-Series black.
---
Images of products are only for information purposes and can change due to continuous product development. Prices, images and product description are subject to change without notice. Not responsible for typographical errors.